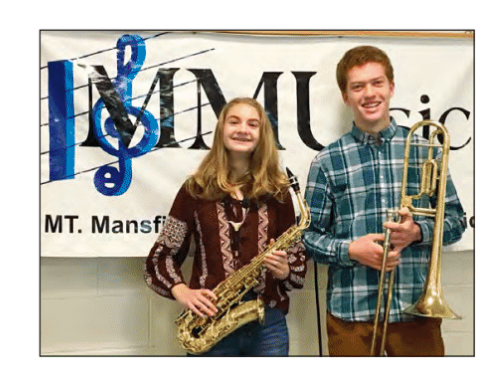 Musicians To Play in National Ensembles
During the 2018–19 school year, along with other accomplished music students across the United States and overseas in military base schools, Jayme Billings (Sophomore-Alto Saxophone) and Ethan Hall (Senior-Trombone) from Mount Mansfield Union High School (MMUsic) practiced with dedication to gain a chair or part in their local, district, and state music honor ensembles.
And now the two high school students will join the "best of the best" for the National Association for Music Education (NAfME) 2019 All-National Honor Ensembles November 7–10, 2019, at the Gaylord Palms Resort and Convention Center in Orlando, Florida.
Jayme Billings is a sophomore and performs in the Marching Band and Wind Ensemble. Her passion is the alto saxophone. Playing classical and jazz music with various groups in and outside of school. She plays music to inspire others and to make herself happy. During her Freshman year she won the district scholarship performing in front of a large crowd and this past summer she attended a two week saxophone workshop at the Tanglewood Institute. Billings takes private lessons with Steve Klimowski with University of Vermont and Kenneth Radnofsky with New England Conservatory. She hopes to have a career in music.
Ethan Hall is a senior, performs in the Marching Band and Wind Ensemble and is a committed musician. He hopes to spend time traveling after high school before becoming a music teacher and conductor. Hall takes private trombone lessons with Dale Long. He spends his time performing in the Vermont Youth Orchestra and many festival ensembles, he enjoys singing and leads the MMU acapella group the BAd BAnAnAS. He also enjoys playing piano and songwriting. MMU instrumental Instructor